5 handy tips and tricks to optimise your YouTube channel
June 29, 2018
1 – Update your homepage
Your homepage is your shop front, this is where you draw people in and begin to establish your brand. All content curated for this page should be compelling, unique and aim to introduce your channel personality. Here are a few simple ways to capture attention quickly…
– Create a customised Channel banner.
Include any established branding elements you have, font, logos, brand colours or taglines. This channel banner can also be swapped out depending on your marketing cycle, you may want to create a specialised campaign banner for different projects, videos or content, or even seasons! You just want to make sure that if you're changing your banner like this, the branding still always remains consistent.
– Upload an engaging Trailer video that succinctly reflects the general tone of your channel.
It's best practice to select a video that introduces you as a content creator and also outlines what viewers can expect from your content, don't just pick the video with the most views! Give potential viewers a taste of what you're all about, create intrigue around your content and encourage subscriptions.
– Revise and update your 'About' section.
Think of this as your trailer video in written form. You want to introduce yourself, give a bit of back story, tell your potential audience what you're channel is aiming to provide in terms of content. What questions will you answer? What problems will you solve? Are you providing entertainment or a service? Below is a great example sourced from top YouTube creator 'Wengie' of what your 'About' section should include:
'On my channel: Simple Life Hacks, DIYS, Craft Ideas, Fun Experiments, tricks and pranks! I also do Morning and Night Time Routines, Hair Tutorials, Diet & fitness Tips, Look books & Fashion Videos, Skincare Tutorials and Tips, and everything to help you improve, motivate and simplify your life because I love to try new things and help you all make the right decisions. I want this channel to inspire you to be whoever you want to be. I'm a Chinese Australian that has a wonderful family online 🙂
NEW VIDEOS every WEEK!! Subscribe and turn on notifications :)!!

Instagram @misswen
Twitter @wengie
Follow me on Snapchat: wengie
Blog: http://www.wengie.com
Weibo: Wengie黄文洁

2 – Categorise your videos and create some playlists
The key tactic with playlists is to ride on the coattails of a popular theme whilst keeping viewers in your content ecosystem. Take a look at what's trending on Google and focus on a topic that relates to the content on your YouTube channel. This may be a big upcoming event, a political cause or movement or even just a popular TV show or trending activity. Once you've found your inspiration, create some playlists around your chosen theme and label them to align with key search terms for the trending topic you've chosen. Usually, when a video ends YouTube randomly selects the next video for the viewer (this may not be one of your videos), the key to playlists is that they KEEP people on your channel with the next autoplay source being the playlist itself.
Remember, once you've created some playlists try to update them frequently to keep inline with current trending content themes.
3 – Put thought and strategy behind your video titles, descriptions, keywords and tags
Researching is key to audience growth. Well researched keywords that are used deliberately can be an invaluable tool for your channel – they can boost rankings for your videos, playlists and recommendations. But HOW do you research this? It's actually very simple; just Google it! Seriously… Google search anything related to your video topics and take note of what Google preempts your search to be. For instance, say you have a channel that focuses on DIY's or 'life hacks' and you're trying to think of some content ideas for the upcoming weeks, you could Google search 'How to make…' and Google will literally TELL you what people are searching. Apparently slime is quite a popular thing to make at home. So there's your next piece of content: 'How to make slime', or pancakes, or money, or a paper plane, and so on!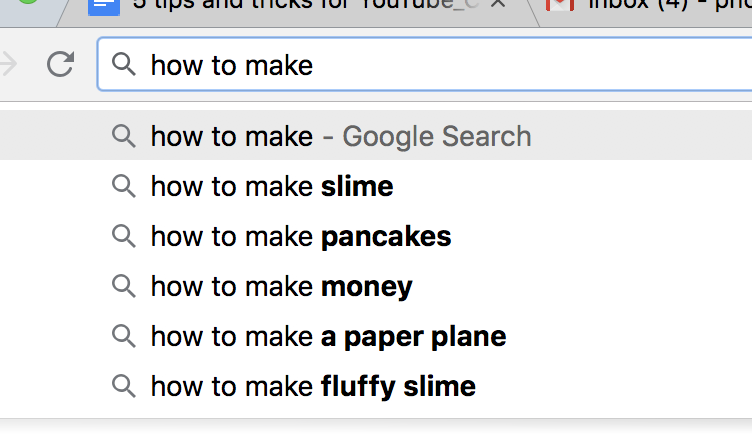 Pick whatever works with your channel content, or create new content based on this search and then use the keywords in EVERYTHING: Video Titles, Descriptions and Tags. Keywords in our example would be, 'how to' and 'slime'.
4 – Add cards and end screens to your videos
What is the purpose of your channel? Are you trying to ultimately send people to another platform, or a website? Are you hoping to convert viewers into customers or are you trying to create a community of followers within the YouTube platform? These are all questions you need to address before looking at using the functions of cards and end screens, they can be used to to bolster any of these aims. You can use cards and end screens to keep people on your channel, OR to send them to your website, a purchase link or… anywhere really. Don't know what cards are? Cards are essentially CTA icons that pop up mid video prompting you to click, these can send you to another video on your YouTube channel, or to a website or purchase page. End screens are utilised more to keep users on your channel, by displaying a final screen that prompts the user to watch another one of your videos. Both cards and end screens are totally customisable and help to optimise your channel for whatever your end goals may be.
5 – Customise your video thumbnails!
Unfortunately, in this fast paced world of social media and advertising, people do tend to judge a book by it's cover. So when potential viewers are scrolling through the millions of amazing pieces of content on offer to them, you want yours to stand out. You want them to pick your video. Some of the top YouTube creators spend HOURS designing and customising their video thumbnails, and it's worth it. Try designing your video thumbnail to include large font and bold but brief text (1-3 words Max), house the rest of the text and information in your video Title and Description.
We hope this has been helpful, and you now feel confident looking at YouTube as a valuable marketing platform for your business… Or, even just as an outlet to create ridiculous videos that encourage people to spiral into what has now become known as 'a YouTube hole'. Either way, YouTube is worth spending some time understanding and optimising.